nopAccelerate Plus Makes your e-commerce businesses faster, more scalable and reliable that enables to create rapid product search and discovery experiences to your customers that will fall in love with it.
---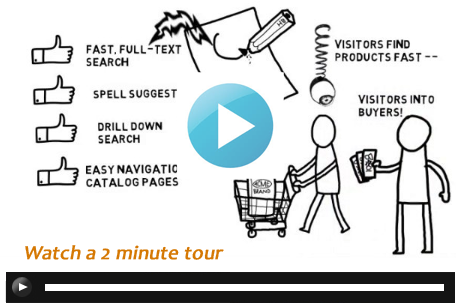 Top New Features
Blazing fast search results
Real full-text search with advanced text analysis which supports 36 languages out of the box
Search with-in Category, Manufacturer, Vendor Pages
Drill Down Facet Filters on Search Results
Relevancy based on custom weighing per field
Enhanced Multi Facet filters for Catalog Pages
Faster Admin Panel Product Search
in-stock product higher relevancy for search results
Easy, One Click Integration
Zero Theme Customization
Compatible with third-party Themes & Plugins
Support for Solr Native (DIH) Indexing
Support for Multiple Languages, Currency & Store in Single Solr Core
Support for all default nopCommerce features and enhances them
More exciting features are coming soon
What is nopAccelerate PLUS?
nopAccelerate Plus is new, completely redeveloped, that integrates Apache Solr with nopCommerce that offers outstanding features to improve user experience.
Business benefits
Improved Relevancy
Reduce Zero hit query
Improved conversion rate
Improved Revenue
Why nopAccelerate PLUS?
Better and Faster Search Results directly and positively impact sales. So Better Search = More Revenue!!
nopAccelerate Plus is completely different compare to nopAccelerate. We started nopAccelerate in 2013-14 and since we see a lot of change in nopCommerce architecture which allows to design and develop the new integration plugin in more proficient and modern way, something which can be integrated effortlessly in a more standard way. This time our product will be more compatible with other themes & plugins and is easier to extend and maintain.

* nopAccelerate Search is available for free, only for the nopCommerce based e-commerce shops with catalog size of 1000 products or fewer
How nopAccelerate Search can help you Convert more?
Check the features that help you Sale More...
---
1. Easy Integration with nopCommerce
---
2. Powerful True Full Text Search
---
3. Advanced Language Analysis
---
4. Automatic wrong spelling correction
---
5. Powerful Drill Down Search using Facets
---
6. SEO friendly Ajax Filters
---
7. Improves the Quality of Search Results
---
8. Fastest search result
---
9. Lesser click, More result on Single page
---
10. Easy To Install & Use
---
11. Powerful Configuration that allows to Personalize Search Experience
---
12. Easy to Scale
---
15. Supported by Expert & Dedicated Team
---
16. Under Enterprise license
---
Help your visitors find the right product easily & quickly.
Start using nopAccelerate search today. It's free for small stores!
If you're not using this great free Search Plugin for your nopCommerce store, then you're loosing your sales!!
---
Customers using our products world-wide
---
Few of our Esteemed Customers using nopAccelerate Search