Use the Best Search Plugin for your nopCommerce Store for FREE
The Most Feature Rich Search Plugin for your nopCommerce Store
---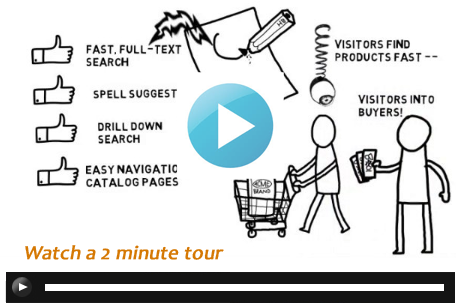 Top Features
5 minute, easy installation
The true full text search
Advance Language Analysis (30+ languages)
SEO friendly, Multi Facet Ajax Filters
Great Features
Professional Support
1 Year Free Upgrade
Download Now
What is nopAccelerate Search?
nopAccelerate Search is the most feature rich, one of the best, advanced search plugin for nopCommerce.
nopAccelerate Search integrates Apache Solr with nopCommerce to enhance your site's full text search results. It uses Apache Solr's capable, powerful and blazing fast search engine to offers you faster and improved search results including additional features like faceted/drill-down search, spell suggest, and many other features.

Why nopAccelerate Search?
Better and Faster Search Results directly and positively impact sales. So Better Search = More Revenue!!
If your visitors can't find the products they are looking for very easily and quickly then they will turn to your competitors' website and you will lose a potential client! But now it won't happen, because you can use nopAccelerate Search for offering quality search results on your nopCommerce shop.

How nopAccelerate Search can help you Convert more?
Check the features that help you sale more
---
1. Easy integration with nopcommerce
---
2. Powerful True Full Text Search
---
3. Advanced Language Analysis
---
4. Corrects Wrong Spelling Automatically
---
5. Powerful Drill Down Search using Facets
---
6. SEO Friendliy Ajax Filters
---
7. Improves the Quality of Search Results
---
8. Fastest Search Results
---
9. Lesser Clicks, More Results on Single Page
---
10. Easy To Install & Use
---
11. Easy, Finest & Reliable Integration with nopCommerce
---
12. Powerful Configuration Allows to Personalize Search Experience
---
13. Easy to Extend
---
14. Easy to Scale
---
15. Supported by Professional & Committed Team
---
16. Comes with Full Source Code under Enterprise License
---
Help your visitors find the right product easily & quickly.
Start using nopAccelerate search today. It's free for small stores! 🙂
If you're not using this great free Search Plugin for your nopCommerce store, then you're loosing your sales!!
---
Customers using our products world-wide
---
Few of our Esteemed Customers using nopAccelerate Search