Step by step guide to install nopAccelerate Solr Plugins and nopAccelerate Plugin Views for integrating Solr with nopCommerce Store.
Applicable to:
nopAccelerate
nopAccelerate Lite
nopAccelerate Search
nopAccelerate Search Lite
Adding nopAccelerate View Files to your nopCommerce Theme
The nopAccelerate Solr Plugins contains few view files which are available as open source, so you can modify it according to your theming requirements.
These View files are included in the Plugin archive file you've downloaded from our store. This View folder may contain folder Solr Product or Solr Search or both depending the edition of the Plugin you've purchased.
Move or upload these folder(s) in the View folder of the nopCommerce View folder.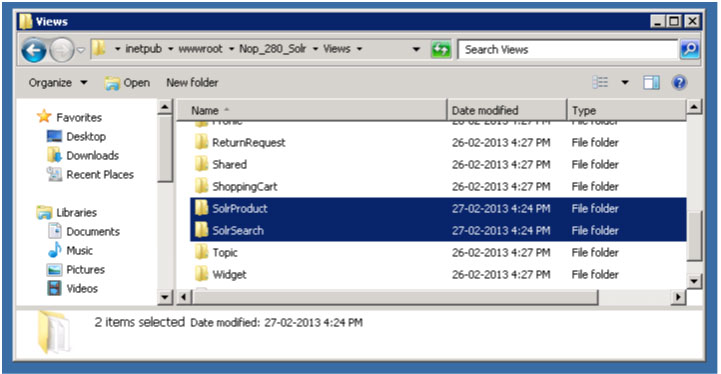 To customize it for your theming requirement, you can copy it in your active theme directory's View folder and extend it in the same way as you customize other nopCommerce View files.
---
Upload nopAccelerate Solr Plugins
Uploading or Installing nopAccelerate Solr Plugins to your nopCommerce is very simple.
Step 1: Upload nopAccelerate Plugins to nopCommerce Plugins Folder
Upload or Copy (after extracting) nopAccelereate Solr Plugin folders to nopCommerce Plugins folder.
Depending on the version of the Plugin you have bought, you may have different files, upload only the Plugin folder and not the rest of the files. Also make sure that you are not uploading Plugin folder directly. The Plugin folder contains folder for each plugins. You need to upload these folder only.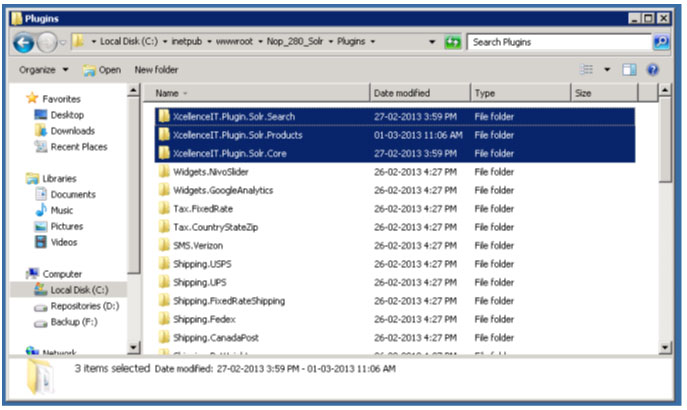 Step 2: Reload List of Plugins from nopCommerce Admin Panel
Log into the Administration area of nopCommerce, and then goto Administration > Configuration > Plugins > click the button "Reload list of Plugins".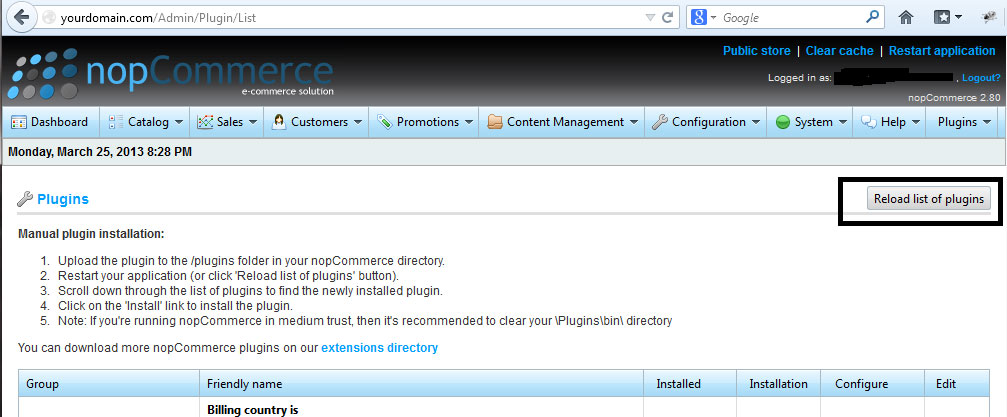 Step 3: Install nopAccelerate Solr Plugins
Once the list reloads, find the NopAccelerate Solr Core Admin Plugin, and click the "Install". Wait until Plugin is installed & page re-loads.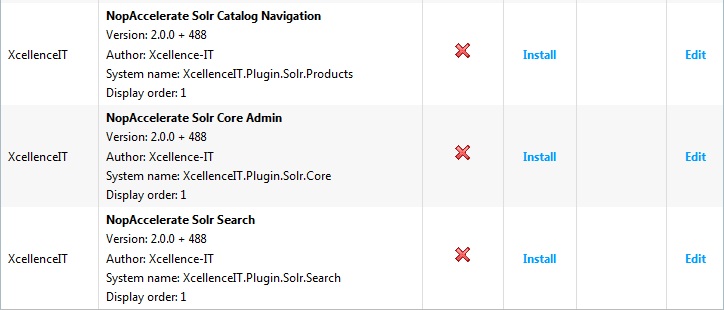 There are may be one or two more plugins that you may need to install. They may be named as NopAccelerate Solr Search & NopAccelerate Solr Catalog Navigation . Please install these plugins too.
Step 4: Open Solr Admin for nopCommerce
Once the installation is finished for all Plugins, you'll notice that a new Menu called Plugins will be added to your nopCommerce Administration Menu after Help. Click on a "NopAccelerate Solr Core Admin" to proceed with configuring NopAccelerate Solr Core Admin Plugin.

---
Hint: Ways to avoid down time while installing nopAccelerate Solr Plugin on Live Site
Do not enable NopAccelerate Solr Search & NopAccelerate Solr Catalog Navigation  plugin until you're done with Configuring NopAccelerate Solr Core Admin plugin and have performed a full indexing for you site. NopAccelerate Solr Search & NopAccelerate Solr Catalog Navigation plugin requires at least some data in Solr index. If there are no data in Solr Index, then Search and Catalog Pages may not work correctly and may appear broken to your visitors during this time.
For Configuring NopAccelerate Solr Core Admin plugin, please refer to the Configuring nopAccelerate Solr Plugin document.
---
&#8592 Back to Configuring Apache Solr to use with nopAccelerate
Proceed with next step to Configuring nopAccelerate Solr Plugins&#8594